Free Sample
Free sample contains 2 of 12 Language Burger games: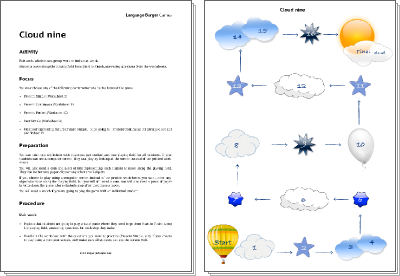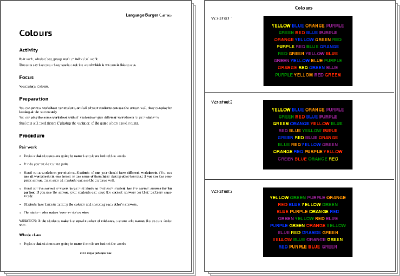 Please read README.txt file included with the sample.
---
Preview without downloading
Cloud nine
The board games that everybody loves are now used to practise different tenses and other grammar constructions. Watch your students play the game or play along with them. Choose the construction to practise from the list or add your own!
Instructions — 4 pages, Worksheets — 8 pages.
Colours
Have you ever tried playing this game at your leisure time? You name the colours but not the words, and sometimes it seems impossible to do it right from the first time at all! Let your students experience all those emotions and fun moments while revising the colour vocabulary!
Instructions — 3 pages, Worksheets — 2 pages, Answers — 2 pages.
Not conviced yet? View free sample.
Why the price is so low? Educational products usually cost a lot. We're ready to change that. We don't use traditional publishers or printers—modern technologies and delivery via the Internet enable us to reduce costs, so we can pass these savings to you. Unlike big publishers, we don't have huge marketing budgets, instead relying on teachers who like our products to pass the word. We believe that education must be affordable and available to everyone, so we keep our margins lower than the industry.
---